Alternative Education
School-Connect's overarching goal is to reduce the risk factors that lead to academic failure and bolster protective factors. School-Connect lessons and class environment are designed to alleviate most of the leading factors associated with drop out (Bridgeland, 2006; Hayasaki, 2006):
Truancy (skipping multiple classes)
Repeating a grade
Having friends who are disinterested in school
Thinking school is boring
Doing less than an hour of homework a night
Feeling unprepared for high school after elementary and middle school
Transferring schools
Having less parent involvement
Responding to personal and economic situations (e.g., pregnancy, full-time employment, family responsibilities)
For students who harbor negative associations with school and learning, School-Connect creates a classroom environment in which they can feel successful, known, and valued. School-Connect exercises and writing assignments do not require an advanced reading level or significant background knowledge, so students can dive in and share their opinions and experiences without feeling inhibited by their academic skill level.
Bridgeland, J.M., Dilulio, J.J., & Morison, K.B. (2006). The silent epidemic: Perspectives of high school dropouts. A report by Civic Enterprises in association with Peter D. Hart Research Associates for the Bill & Melinda Gates Foundation.
Hayasaki, E. (February 3, 2006). The vanishing class. Los Angeles, CA: L.A. Times.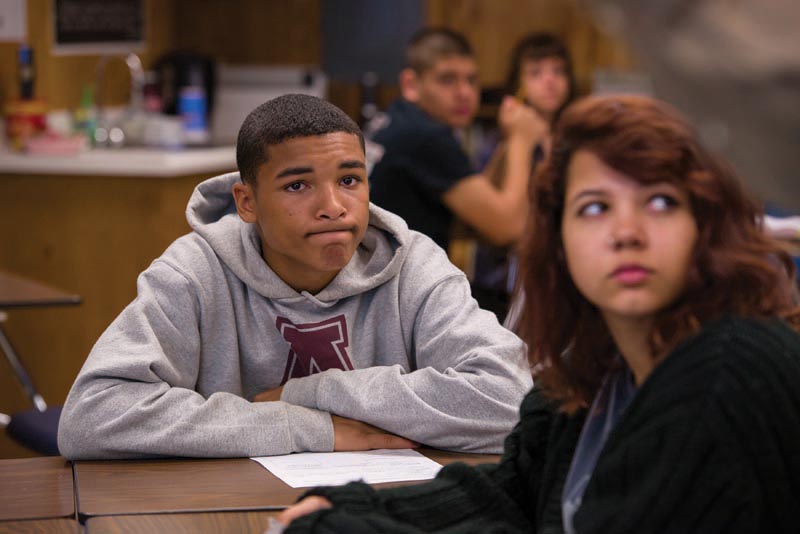 What Teachers are Saying...
School-Connect has been great! We have incorporated the curriculum in to our Jobs for America's Graduates course. The students are responding very well! I think we all enjoy the hands on videos and the opportunity to spend time together. 90% of our course work is an online curriculum so I think the student truly enjoy engaging with each other."